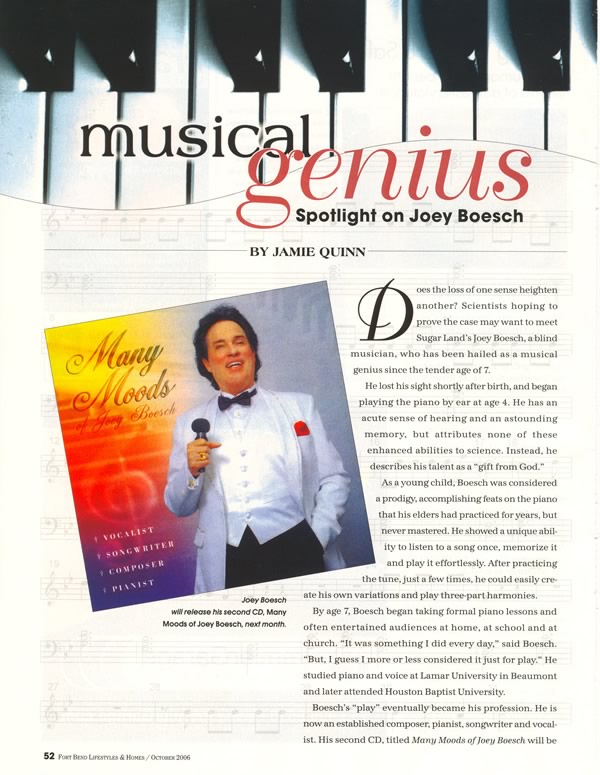 released in November.

Over the years Boesch has been invited to perform for or with everyone from Paul Anka, Dennis James, and Bob Hope, to Liberace, Kenny Rogers and the president of the United States.

Numerous charity organizations rely on Joey to provide their entertainment year after year. His music appeals to all age groups and his repertoire includes classic hits from the '40s and recent hits of today, Boesch says he enjoys performing everything from big band to soft rock, but his first love is gospel and Christian music.

Boesch plays piano every Sunday in the atrium of Second Baptist Church on Woodway, in Houston, and is a member of the church choir. He also visits assisted living and retirement centers to entertain from time to time.

"I believe that entertainment is a form of ministry," said Boesch. "I support a lot of charities, both civic and church-based. I believe in giving back to the community and it means a lot when I can bring joy to others."

Boesch performs for prison inmates in Lake Jackson a few times a month. "It's a church service," said Boesch. "I do the music along with some other members on the team, and we have a special guest speaker to bring the gospel message to the inmates."

Boesch says his faith has helped him through some tough challenges. He was born prematurely and received too much oxygen after birth. As a result, he lost his sight and developed a very mild form of cerebral palsy.

"Growing up, I was challenged at times by my disability, but I was able to overcome it, and find ways to get around it," he said. "With God all things are possible."

His mother and personal manager, Valerie Boesch agrees. "He has a divine gift," she said. "He is brilliant, his mind is brilliant."

Other than being able to hear a song once and play it, Boesch has another unique gift - he never forgets a name. Celebrity or not, if you've ever been introduced to Boesch, there is a 95 percent chance that he still knows your name. But, all who know him would agree, it's his own name that deserves to shine in lights...